I hinted at a bit of a viral revival just yesterday, but I wasn't quite expecting the rest of microbiology's greatest villians to kick in just yet. Still, they did.
Portuguese authorities have confirmed five cases and are investigating another 15 suspected cases. In a statement on Wednesday, Portugal's health ministry said the cases it had detected – all in the Lisbon and Tagus Valley region – had all involved men whose symptoms included ulcerative lesions.
While in Madrid:
"Generally speaking, monkeypox is spread by respiratory transmission, but the characteristics of the eight suspected cases point towards fluid contact," the spokesperson said.

Fernando Simón, an epidemiologist who heads Spain's health emergencies centre, said while it was unlikely that monkeypox would spread significantly, "that can't be ruled out".
Salmonella in Belgian Chocolate:
Obviously not a virus, but still small and nasty, so it fits here.
This one has been going for a while now, but an updated report means that we can include it in this week's microbiology news. Belgium chocolate is known for its quality and its creamy, luxurious taste, and now also for containing Salmonella typhimurium ST34. Delicious.
Cases, which have now started to decrease, stood at 324 (including both probable and confirmed) in the EU/EEA and the UK, as of 18 May 2022. They have been reported in twelve EU/EEA countries (Austria, Belgium, Denmark, France, Germany, Ireland, Italy, Luxembourg, the Netherlands, Norway, Spain and Sweden), the UK, Switzerland, Canada, and USA.
Awful news about the first wild poliovirus infection in Moz in over 30 years.
The case was diagnosed in a child in the northeastern province of Tete, it said. "The detection of another case of wild poliovirus in Africa is greatly concerning, even if it's unsurprising given the recent outbreak in Malawi," WHO Africa chief Matshidiso Moeti said.
Poliomyelitis – the medical term for polio – is an acutely infectious and contagious viral disease which attacks the spinal cord and causes irreversible paralysis in children.
The virus was tracked back to the outbreak in Malawi from a strain originally circulating in Pakistan. Local countries are now desperately trying get all their children vaccinated before there is any further spread.
Corona continues:
No handy news report to go with this one, but despite the numbers starting to drop in SA, there have been three five more confirmed cases in people I know in the last 24 hours.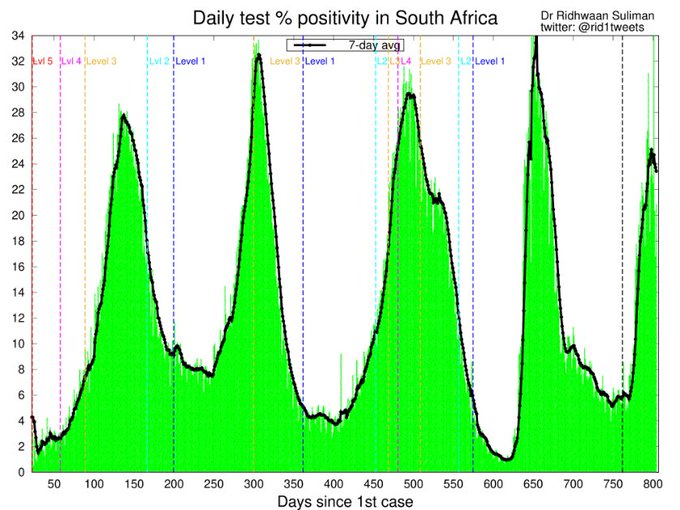 I'd love to see the provincial data: it's my feeling that a significant decline from the previously high numbers in Gauteng might be masking a steady (or even slightly increasing) case load in the Western Cape. Certainly anecdotally, we're feeling a bit surrounded by it again. A reminder to please act sensibly and responsibly because this clearly isn't done yet.
And obviously, a get well soon to those in question. You know who you are.
And that's it for today this particular hour as far as microbiology news goes. Join us again tomorrow for more happy happy joy joy fun and games as thousands of people get sick thanks to various germs, disease and infection.