Yesterday, I watched the Olympic Games opening ceremony along with 2,999,999,999 others. Not all in my lounge, obviously; that would have been a squash and a squeeze.
Anyway, it was fairly impressive stuff. Lots of flashy lights, a myriad of people running about in unison, a few people in weird costumes, some people attached to wires which made it look a bit like they were flying if you ignored the wires and so on. Oh, and some fireworks.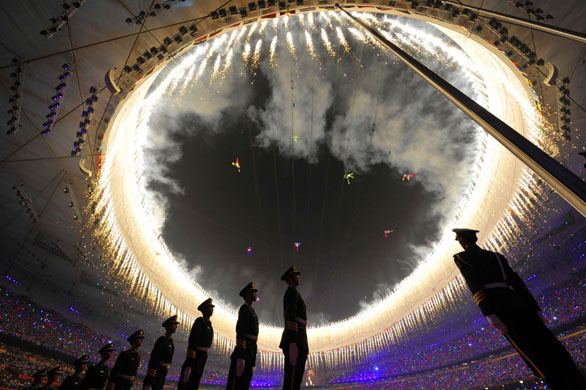 Attention!
So obviously very different from every other opening ceremony for a big sporting event. Right.
What was different about Beijing 2008's opening night was the fact that it cost (according to the SABC's coverage, anyway) about $75m (US) to stage. Which made me wonder how exactly it adhered to the One World, One Dream motto of this particular Olympiad. Kevin Mitchell sums it up nicely:
This opening of the 29th Olympic Games was an orchestrated marriage of superstition and military precision on a scale only a one-party state could deliver with such confidence. It was a show not so much riveting because of its artistic merit (which was considerable) but the self-conscious reaching for grandeur that has become the Olympic movement's parodic symbol of excess.
And the official Beijing 2008 site states:
"One World One Dream" fully reflects the essence and the universal values of the Olympic spirit – Unity, Friendship, Progress, Harmony, Participation and Dream. It expresses the common wishes of people all over the world, inspired by the Olympic ideals, to strive for a bright future of Mankind.
While I'm all for the Olympics and their ideals – though I recognise that they are very rarely seen outside the couple of weeks of competition every four years – I would imagine that a large chunk of the world's population would probably have different universal values. Like Food, Shelter, Housing and Safety, for example. Ironically, I would also guess that most of this group were the ones who weren't able to watch yesterday.
This "Other World" doesn't fit for the Beijing Olympics though; it's ugly and awkward to deal with while they're splashing out millions on fancy fireworks and Sarah Brightman. And so, like so much else, it is being swept under the carpet and conveniently ignored for the next two weeks.